2020: what a year!
The most unpredictable and atypical year in memory has come to an end and preparing for the year 2021, still in a time of pandemic, is not easy:
The uncertainty of what is coming is still the only certainty.
If there are things that we quickly look forward to doing again - being able to socialise as a group, take part in face-to-face events, travel safely - others we know will never be the same again. Many of the unprecedented changes that have taken place in the year just ended are here to stay and will further transform the way we live and work.
In several business areas - such as law - although the change in technology is already being implemented, the resulting requirement to work remotely has clearly accelerated the digitisation of companies.
The new year also kicks off with the unhealed pandemic but with the awareness that companies will have to be prepared to face the challenges and opportunities that will present themselves. And it is precisely in view of the new ways of operating that the GARTNER, Technology Trends Report highlights areas of opportunity and ways for companies/organisations to differentiate themselves from the competition.
This year's trends fall under three themes: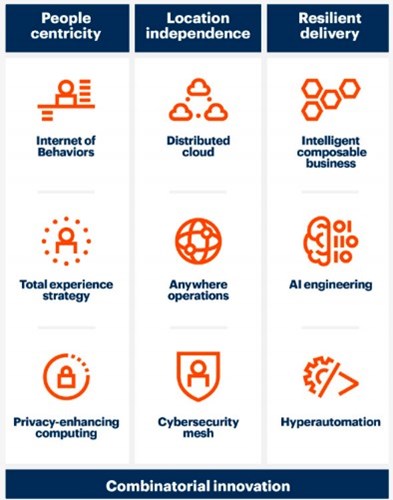 - People centricity: Despite the pandemic changing how many people work and interact with organizations, people are still at the center of all business — and they need digitalized processes to function in today's environment.
Many companies have also focused on putting people first, helping those most in need.

- Location independence: COVID-19 has shifted where employees, customers, suppliers and organizational ecosystems physically exist.
Location independence requires a technology shift to support this new version of business.

- Resilient delivery: Whether a pandemic or a recession, volatility exists in the world but even in these circumstances, companies have found creative solutions to continue operating.

From the analysis of the various trends, this is what we need to retain:
-The cloud's supremacy
To work quickly and anywhere, it is essential to use platforms hosted in the cloud. Distrust about the security of this technology has already been largely overcome as it becomes more and more a resource even for small businesses without the capacity to have their own physical IT infrastructure.
2021 will reinforce the importance of the cloud and GARTNER highlights the "Distributed Cloud". 
Distributed cloud provides public cloud options to different physical locations. Essentially, the public cloud company maintains, operates and evolves the services, but physically executes at the point of need. This helps with latency issues, and also privacy regulations that require certain data to remain in a specific geographical location.
It allows customers to benefit from public cloud and avoid costly and complicated private cloud solutions.
- Operate / Work remotely
Although the return to work in the office is predictable, most companies - including law firms - are considering combining the face-to-face model with remote work, enjoying the flexibility of working from home a few days a week. Now, to work remotely, it is crucial to have the right technology.
Last year, cloud-based technology such as Rolling Legal gave a huge boost to some offices by allowing their staff to work safely from anywhere. 
This working model implies an IT operational model that is designed to support customers anywhere, allow employees anywhere and manage the deployment of business services through distributed infrastructures. This model implies being "digital first, remote first" and aims to offer unique added value experiences. Providing a continuous and scalable digital experience requires changes in technology infrastructure, management practices, security and governance policies, and customer engagement models and employees.
Which brings us to the next point.

- Cybersecurity
Although cyber security was already on the agenda before the pandemic, the shift to remote working with so many domestic and unsafe WI-FI has triggered cyber attacks. Moreover, over 80% of all cyber-cidents are caused by human error, with companies losing millions to recover from staff-related incidents.
In the US, for example, there were an average of 3,000-4,000 cyber-attacks per day during 2020, an increase of more than 400% compared to previous years.
The GARTNER report speaks of a cyber security mesh and the need to support a world of increasingly distributed digital assets and users is the main thing driving the growth of this cybersecurity mesh.
The cybersecurity mesh is a distributed architectural approach to scalable, flexible and reliable cybersecurity control. COVID-19 has accelerated an existing trend wherein most assets and devices are now located outside traditional physical and logical security parameters. The cybersecurity
mesh enables any person or thing to securely access and use any digital asset, no matter where either is located, while providing the necessary level of security. As organizations accelerate digital business, security must keep pace with the rapid change.
Cybersecurity mesh enables a security model that retains the plasticity necessary to operate in the current conditions and offers security without hindering growth for the company. These tools are already being deployed in some capacity by leading organizations.
For this reason, cyber-security experts are advising companies of all sizes to focus even more on securing their data in 2021.
- Hyperautomation / automation of tasks:
Hyperautomation is a process in which companies automate as many business and IT processes as possible using tools such as Artificial Intelligence (AI), Machine Learning (ML), Robotic Process Automation (RPA) and other types of automated task and decision processes tools.
In this way, the automation of repetitive and systematic tasks makes workflows profitable and eliminates certain redundancies, saving time and resources. Hyperautomation is the key to both digital operational excellence and the operational resilience of organisations. To do this, organisations have to digitalise their documents/articles and ensure that their workflows and IT processes were digital. They have to automate tasks, processes and orchestrate automation between functional areas.
According to Brian Burke, Research Vice President of GARTNER, "hyperautomation is irreversible and inevitable. Everything that can and should be automated will be automated".
As we enter the new year, we realize how resilient companies and entrepreneurs have been and how much they have had to adapt.
The technological potential that is being predicted and the uncertainty regarding pandemic control promises a challenging year, to say the least!